LAIZESKE 3.5" EVF Electronic Viewfinder with HDMI Input&Output EVF35
Model:EVF35
Introduction
Screen Size:  3.5"
Resolution:   800x480
Aspect ratio: 15:9
Brightness:   315cd/m²

Input
HDMI
Output
HDMI, Stereo Headphone
DM

Download
[err:数据源标签'GUO.DataSource id="downcone" datasource="显示软件地址" itemId="235" xslt="true" '返回数据错,原因:Root element is missing.,源码:]

{GUO.Field id="downcone" fieldname="LocalServer" /}

OVERVIEW

FEATURES

SPECIFICATIONS

VIDEO

APPLICATION

ACCESSORIES

Using the EVF Flip-Up, you can operate any camera that has an HDMI port, with the correct form factor for vedio with the camera "in-line" to the rod systerm and your eye in the Z-Finder offset. In addition to enhance the stability for better resolution, the EVF Flip-Up allows for a comfortable eye position that enables low-mode shooting. You can shorten your camera package, detach your EVF from the rig, and store it in a dolly or crane for car shots.

3.5" HD LCD Display




The LAIZESKE EVF35's high resolution display provides excellent picture quality and color reproduction for exact video monitoring.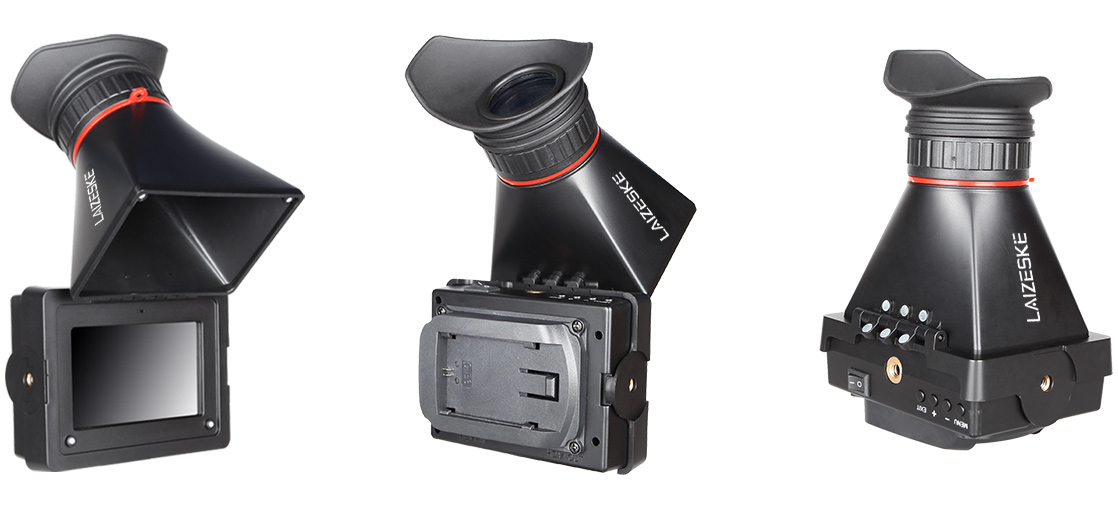 Daisy-Chain Live Displays




EVF35 has both HDMI in and out plug-ins, allowing it not only display live signals, but also send them out to other monitors simultaneously. It's able to display live picture on multiple displays at once while still maintain the original video quality.
1. Wide view angle, HD
, bright, colorful display
2. HDMI input and loop-through output
3. Special Features:
* Peaking Focus Assist (Red highlight over parts of the monochrome image in focus)
* Check Field (Red, Green, Blue, Mono)
* Camera Mode
* Pixel to Pixel
* Center Marker
* Safe Marker (80%, 85%, 90%, 93%, 96%, 2.35:1)
* Image Flip (Horizontal, Vertical, Hor&Ver)
* Image Freeze
* Zoom All
* U/D & L/R Zoom
* Custom Color Temperature
4. Monitoring via 3.5mm stereo headphone jack

Peaking Focus Assist
The Peaking Filter is used to aid the camera operator in obtaining the sharpest possible picture. When activated, the internal processor will display a colored highlight on the screen where sharp edges appear. It's shows Red highlight over parts of the monochrome image in focus.


Check Field
Check Field is an assistant function to adjust camera color settings. Under the check field mode, you can use red, green, blue or mono pixels to generate the image, because hue and saturation can be adjusted more quickly and accurately in this environment.


Camera Mode Function
It will be full screen under camera mode.


Pixel to Pixel
Enable the filmmaker to check the image from the 1:1 signal source without scaling. This feature is essential for capturing optimum detail.


Center Marker & Safe Marker




Safe Mark for View Finding and Composition (80%, 85%, 90%, 93%, 96%,2.35:1)

Image Flip
The Horizontal, Vertical and Hor&Ver of the image around flip.

Model

EVF35

Screen Size

3.5"

Resolution

800×480 pixels

Dot pitch

0.0315(W)

×

0.0945(H) mm

Aspect Ratio

15:9

Brightness

315cd/m²

Contrast Ratio

800:1

Backlight

LED

Viewing Angle

80°/80°(L/R) 80°/80°(U/D)
| | |
| --- | --- |
| Audio Out | Stereo Headphone |
480i/576i/480p/576p
1080i (60/59.94/50)
720p (60/59.94/50/30/29/25/24/23.98)
1080p (60/59.94/50/30/29.97/25/24/24sF/23.98/ 23.98sF)
| | |
| --- | --- |
| Input Voltage | DC6~14V |
| Power Consumption | ≤3W |
| Working Temperature | -20°C~50°C |
| Storage Temperature | -30°C~65°C |
| Install Way | 1/4"-20 Thread Socket |
| Unit Size | 111.2L×88.3H×117.8D mm |
| Unit Weight | 400g |
* Peaking Focus Assist(Red highlight over parts of the monochrome image in focus)
* Check Field (Red,Green,Blue,Mono)
* Camera Mode
* Pixel to Pixel
* Center Marker
* Screen Marker (80%,85%,90%,93%,96%,2.35:1)
* Image Flip (H, V, H/V)
* Image Freeze
* Zoom All
* U/D & L/R Zoom
* Custom Color Temperature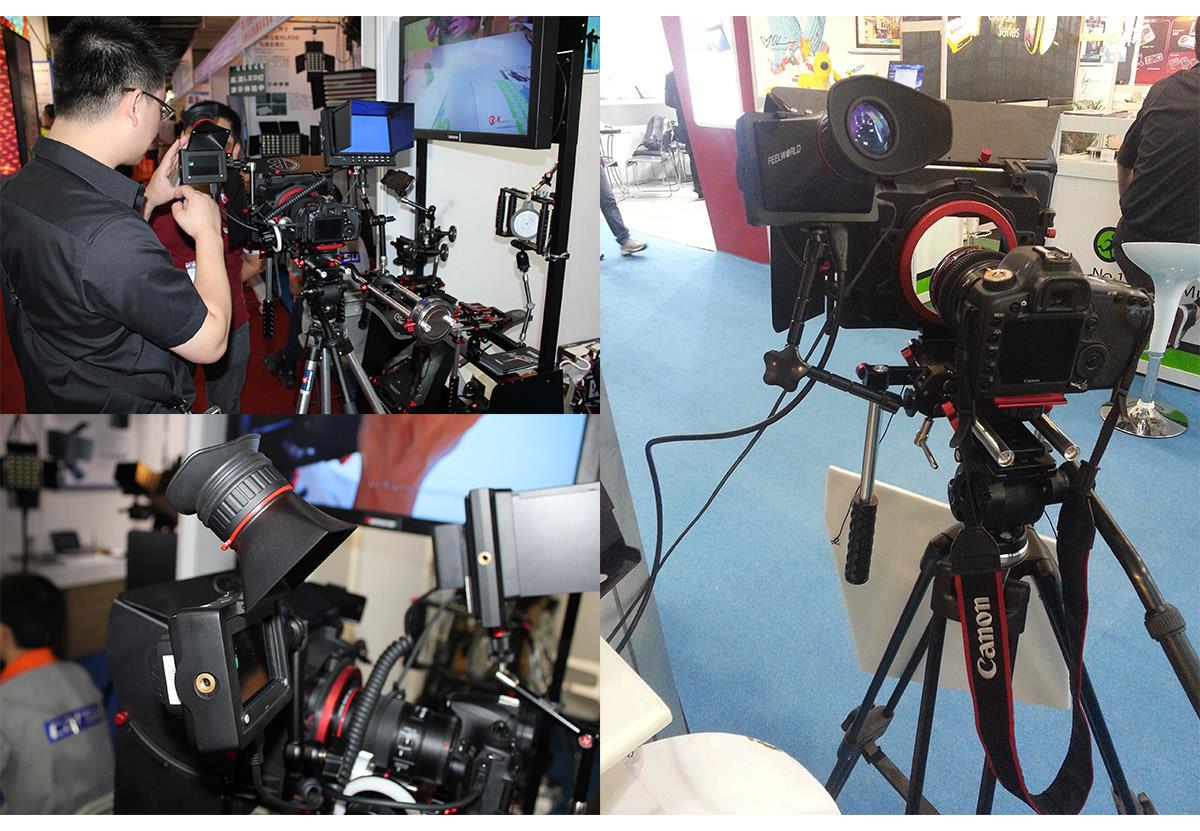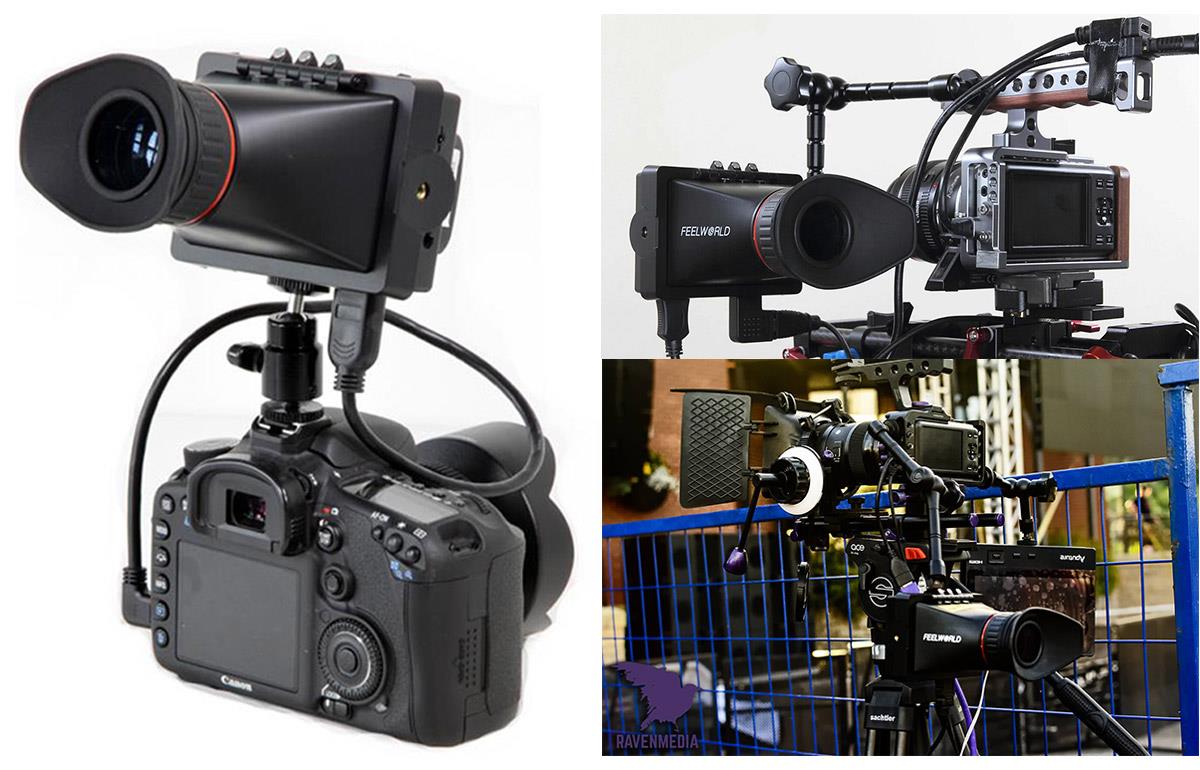 Standard Accessories:
1× Mini HDMI Cable
1× Magnifier
1× LP-E6 Battery Plate
1× Operation Manual