OVERVIEW

FEATURES

SPECIFICATIONS

VIDEO

APPLICATION

ACCESSORIES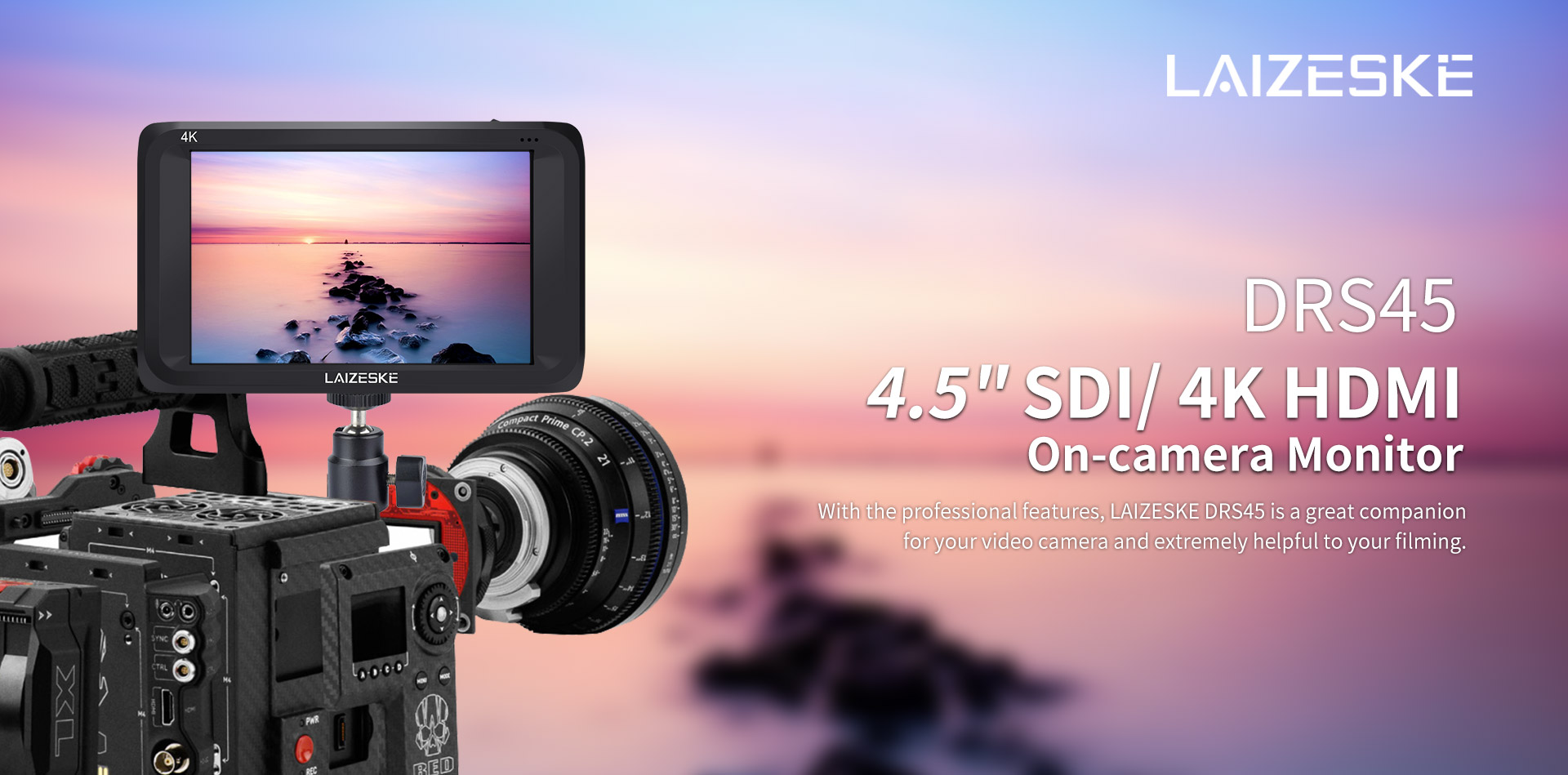 Professional Auxiliary Shooting Functions
Now it's easy to get perfect focus and framing!
LAIZESKE DRS45 monitor is ideal for high end broadcast monitoring because they feature high quality focus assist function, also includes check field, image freeze, image flip, center marker, safe frame, color temperature adjust, assist users to accurately monitor when shooting, making and playing movies/ videos.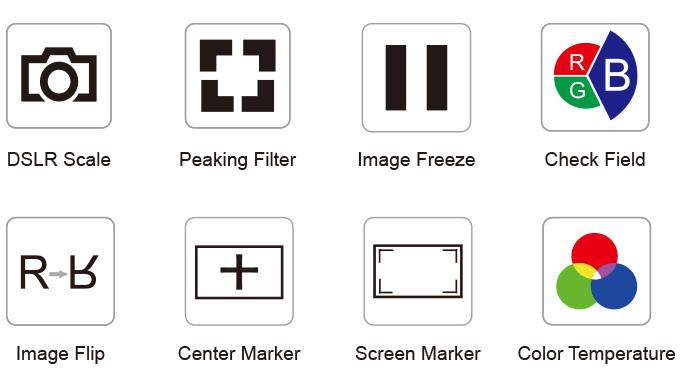 4.5 inch HD LCD Panel
LAIZESKE DRS45 portable on-camera monitor with 4.5 inch 8bit IPS high quality LCD Panel, more clearer and sharper details, showing powerful color display capabilities, what you see is truly what you get!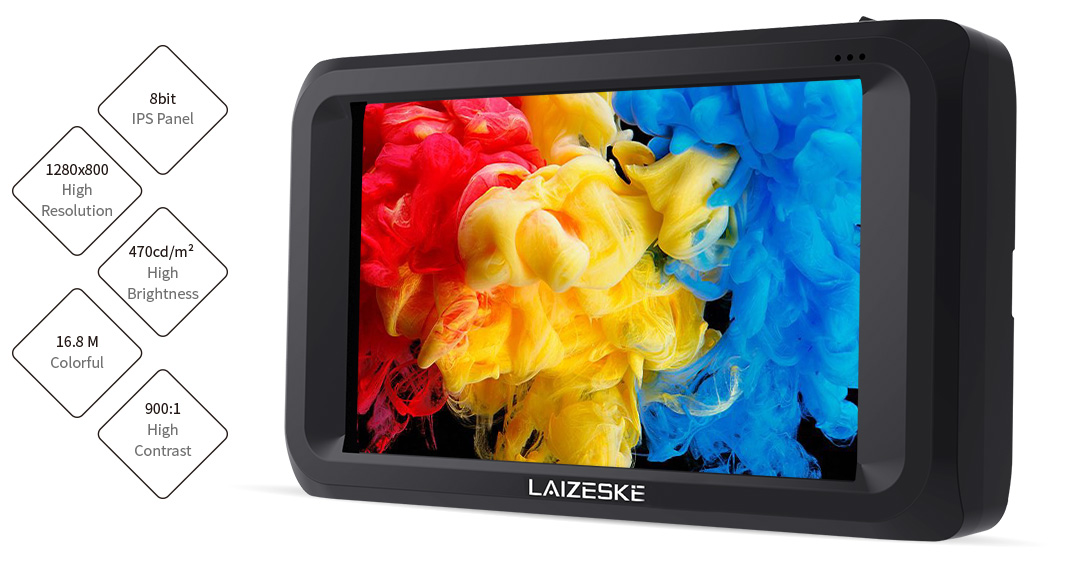 IPS 160° Wider View Angle
Enjoy Consistent Images from Any Perspective. DRS45 uses an IPS panel, which provides a wide 160°/160° viewing angle, this means you'll be able to see accurate, consistent and bright images from any point of view.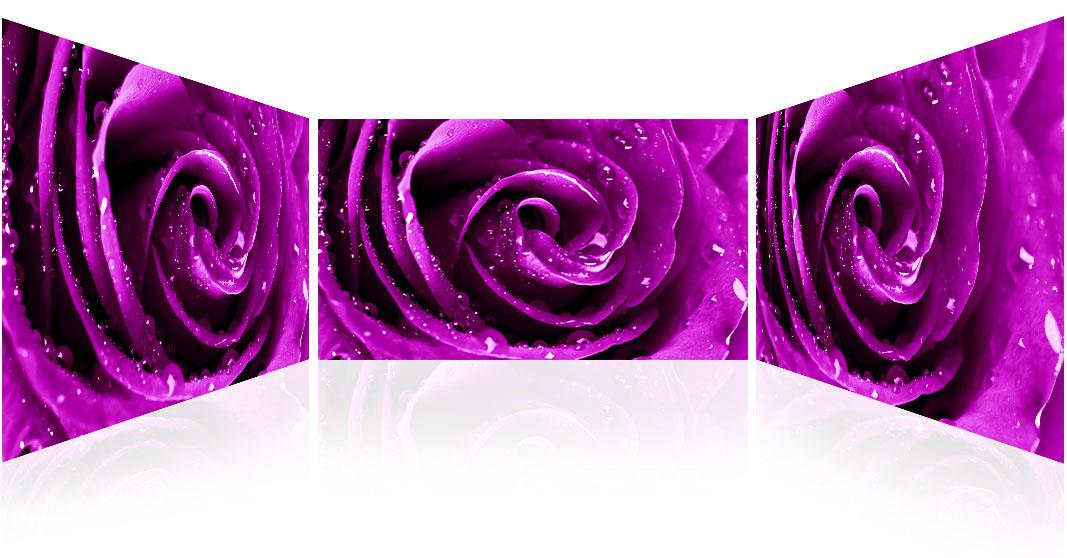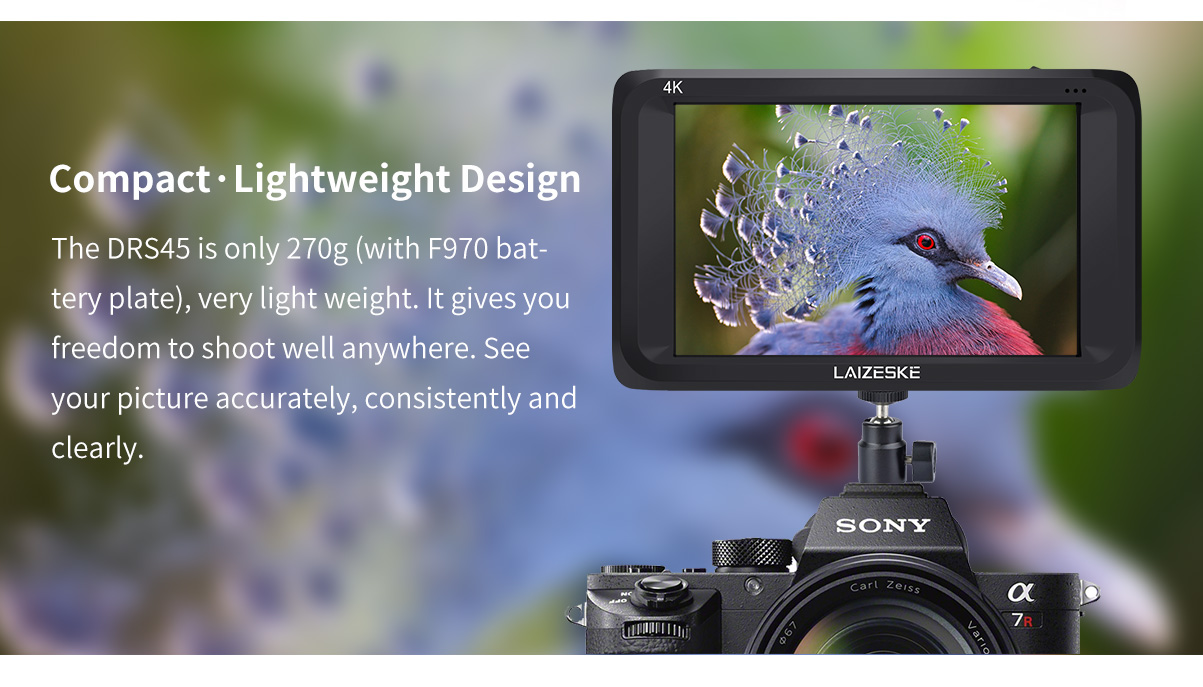 3G-SDI and 4K HDMI Inputs
Support pro or consumer cameras
LAIZESKE DRS45 features high quality 3G-SDI and 4K HDMI inputs for connecting professional SDI and consumer HDMI cameras.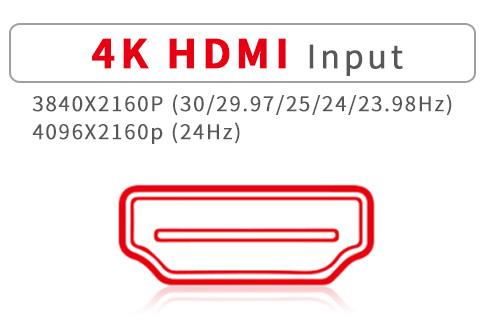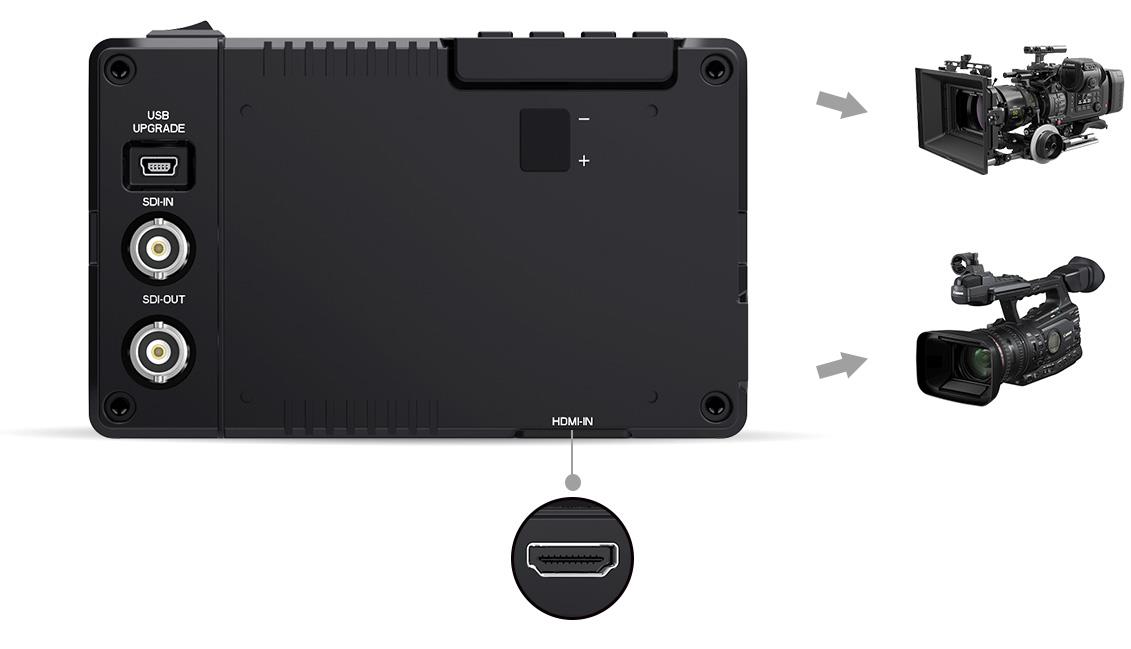 Professional 3G-SDI Output
Supports multiple monitor synchronization monitoring
DRS45 includes professional SDI output, allowing it to not only display live signals, but also send them out to other monitors simultaneously. It's the ability to display live picture on multiple displays at once while still maintaining the original video quality. You can also monitor audio using the 3.5mm stereo headphone jack or the built in speaker.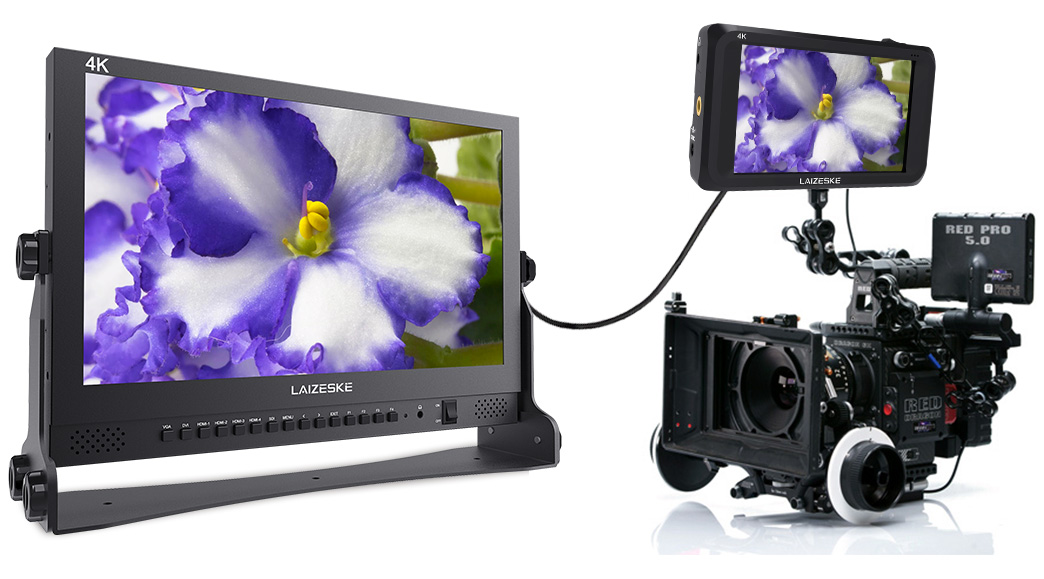 Multiple Install Way
Flexible monitoring
DRS45 with three 1/4 screw hole, can be mounted on DSLR Camera with hot shoe , and can be installed by the magic arm on Steadycam, DSLR Rig, Camcorder Kit, Handheld Stabilizer, Video Camera Crane, with a strong applicability, meet your workflow. It also with the image flip function (horizontal / vertical flip), to facilitate the shooting of various angles.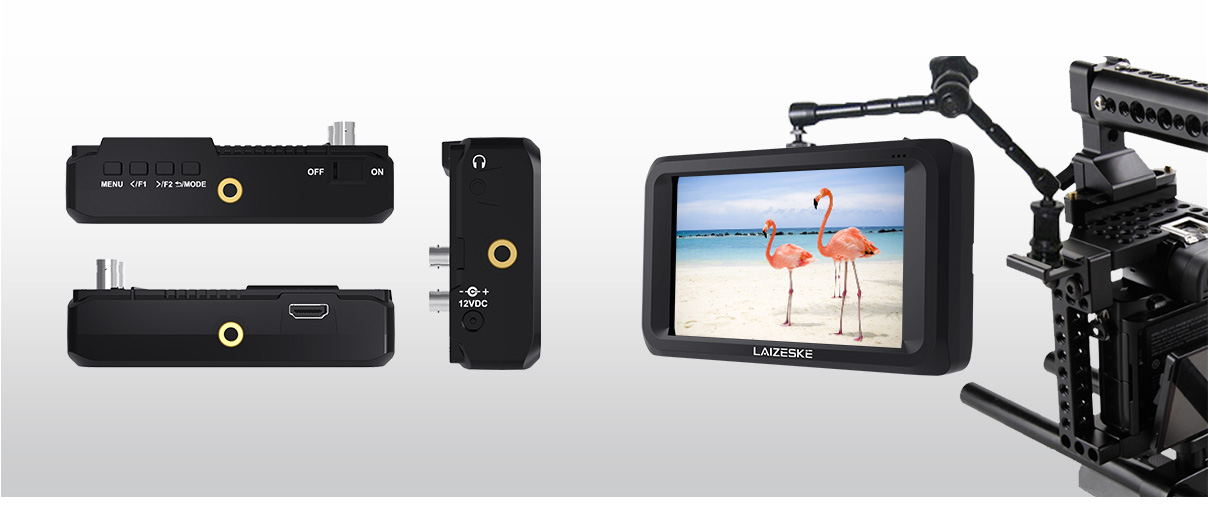 Double Power System
Flexible monitoring anywhere you need it
On the rear side, the DRS45 equipped with F970 battery plate, so you can (and should) bring your own battery solution. Of course, there are D28S/ D54, LP-E6, U60 battery plates for optional,you also can supply power via a 12V DC power connector.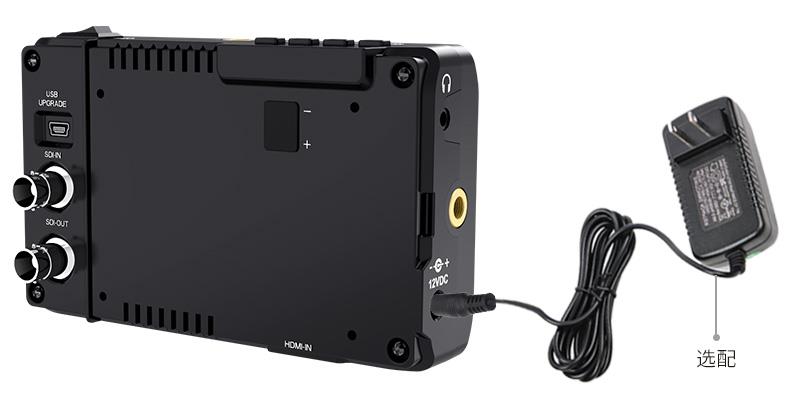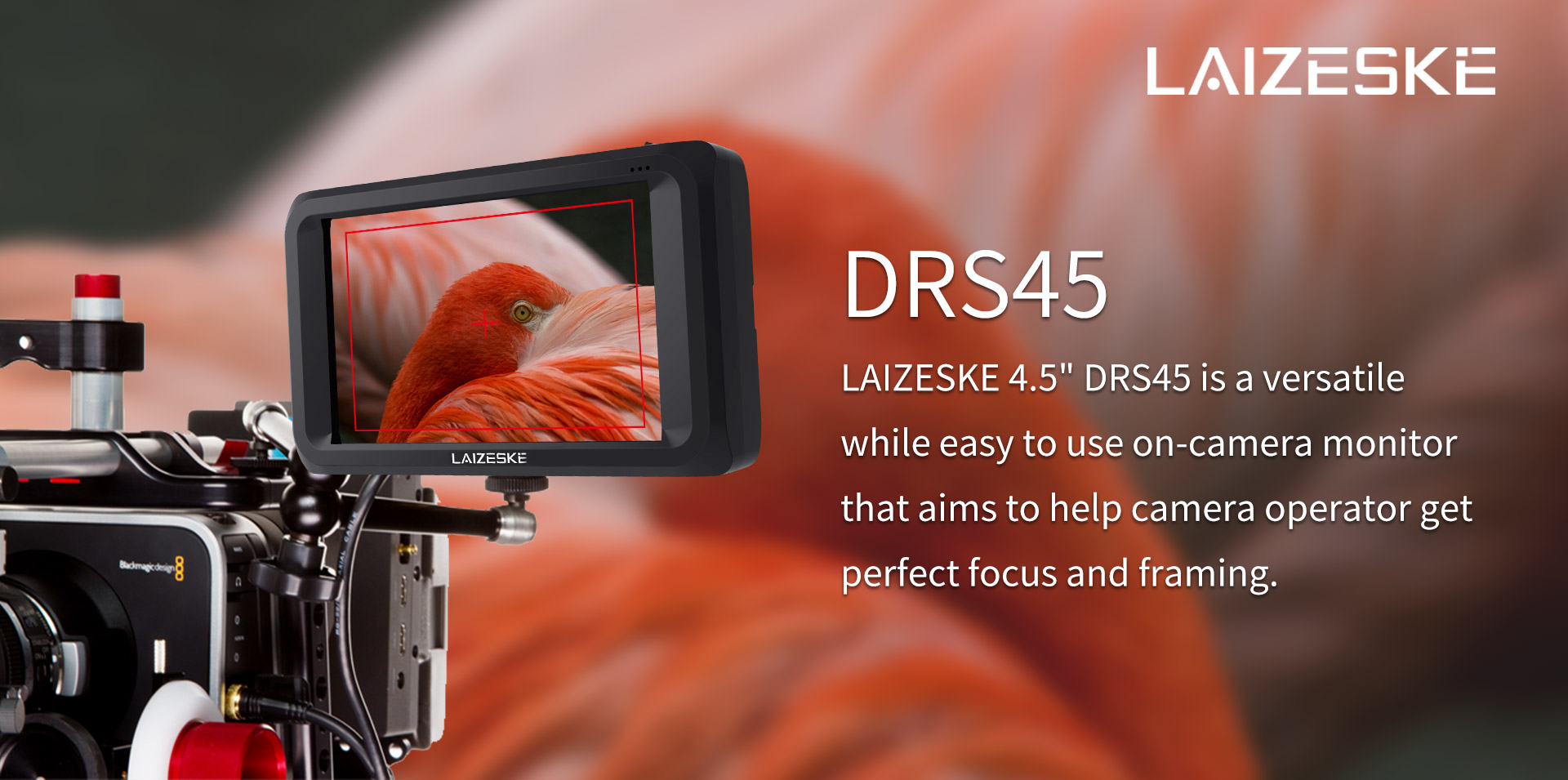 1. Wide view angle, HD
, bright, colorful display
2. 3G-SDI, 4K HDMI inputs and 3G-SDI loop-through output
3. Special Features:
* Peaking Focus Assist (Red highlight over parts of the monochrome image in focus)
* Check Field (Red, Green, Blue, Mono)
* Camera Mode
* Pixel to Pixel
* Center Marker
* Safe Marker (80%, 85%, 90%, 93%, 96%, 2.35:1)
* Image Flip (Horizontal, Vertical, Hor&Ver)
* Image Freeze
* Zoom All
* U/D & L/R Zoom
* Custom Color Temperature
4. Monitoring via 3.5mm stereo headphone jack
Peaking Focus Assist
The Peaking Filter is used to aid the camera operator in obtaining the sharpest possible picture. When activated, the internal processor will display a colored highlight on the screen where sharp edges appear. It's shows Red highlight over parts of the monochrome image in focus.

Check Field
Check Field is an assistant function to adjust camera color settings. Under the check field mode, you can use red, green, blue or mono pixels to generate the image, because hue and saturation can be adjusted more quickly and accurately in this environment.

Camera Mode Function
It will be full screen under camera mode.

Pixel to Pixel
Enable the filmmaker to check the image from the 1:1 signal source without scaling. This feature is essential for capturing optimum detail.

Center Marker & Safe Marker




Safe Mark for View Finding and Composition (80%, 85%, 90%, 93%, 96%,2.35:1)
Image Flip
The Horizontal, Vertical and Hor&Ver of the image around flip.

| | |
| --- | --- |
| Model | DRS45 |
| Screen Size | 4.5" IPS |
| Color Depth | 16.8M (8 bit) |
| Resolution | 1280 × 800 pixels |
| Pixel Pitch | 0.07575 (H) × 0.02525 (W) mm |
| Aspect Ratio | 16:10 |
| Brightness | 470cd/m² |
| Contrast Ratio | 900:1 |
| Backlight | LED |
| Viewing Angle | 80°/80°(L/R) 80°/80°(U/D) |
| | |
| --- | --- |
| 1 X BNC | SDI |
| 1 X HDMI | HDMI |
480i/576i
720p(60/59.94/50/30/29/25/24/23.98)
1080i(60/59.94/50)
1080p(60/59.94/50/30/29.97/25/24/24sF/23.98/23.98sF)
480i/576i/480p/576p
720p (60/59.94/50/30/29/25/24/23.98)
1080i (60/59.94/50)
1080p(60/59.94/50/30/29.97/25/24/24sF/23.98/23.98sF)
4K UHD 3840×2160p (30/29.97/25/24/23.98Hz), 4096×2160p (24Hz)
| | |
| --- | --- |
| Input Voltage | DC7~18V |
| Power Consumption | ≤7W |
| Working Temperature | -20°C~50°C |
| Storage Temperature | -30°C~65°C |
| Unit Size (mm) | 128Lx78Hx31.21D mm |
| Unit Weight | 240g/ 270g (With F970 Battery Plate) |
*Peaking Focus Assist (Red highlight over parts of the monochrome image in focus)
*Check Field (Red, Green, Blue, Mono)
*Camera 5D II Mode
*Center Marker
*Screen Marker (80%, 85%, 90%, 93%, 96%, 2.35:1)
*Image Flip (H, V, H/V)
*Image Freeze
*Custom Color Temperature
*Aspect Ratio
*Zoom All
*U/D Zoom
*L/R Zoom
*Pixel to Pixel (Nonsupport in 4K input)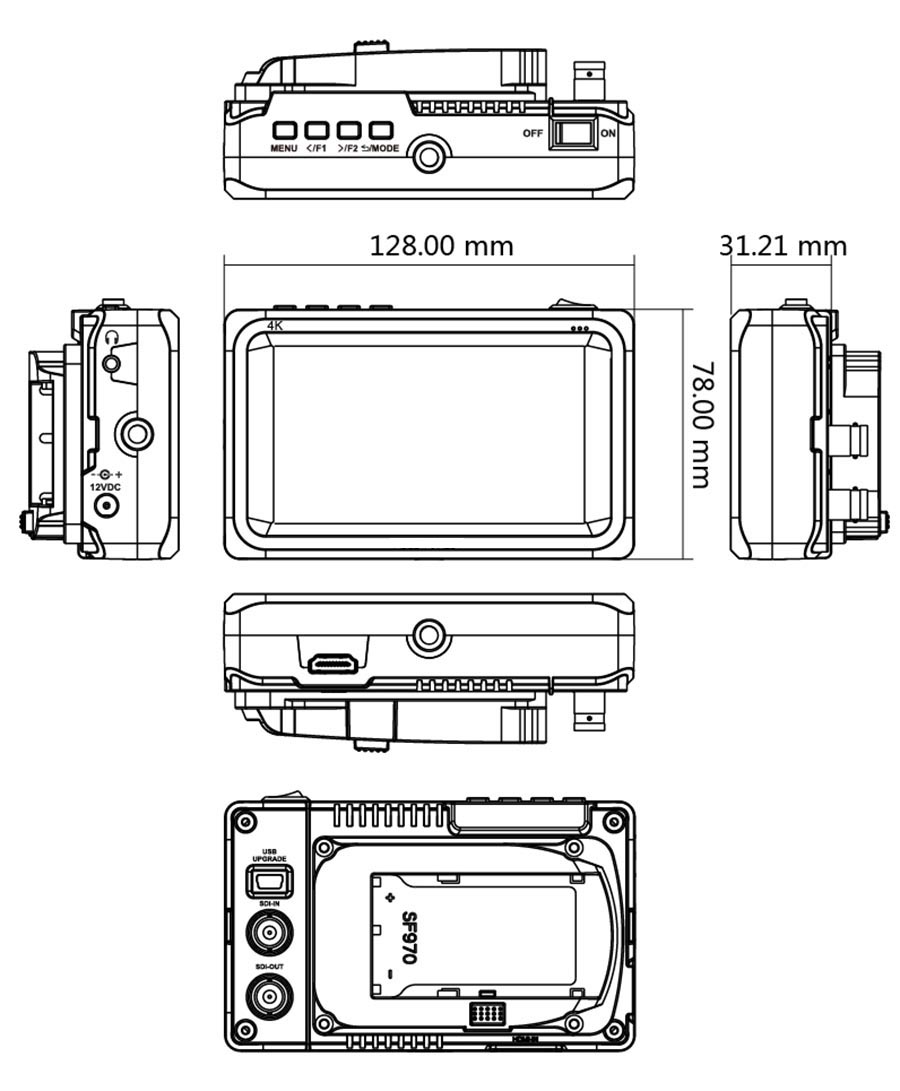 Standard Accessories:
1× Mini HDMI Cable
1× Hot Shoe Mount
1× F970 Battery Plate
1× Operation Manual