OVERVIEW

FEATURES

SPECIFICATIONS

VIDEO

APPLICATION

ACCESSORIES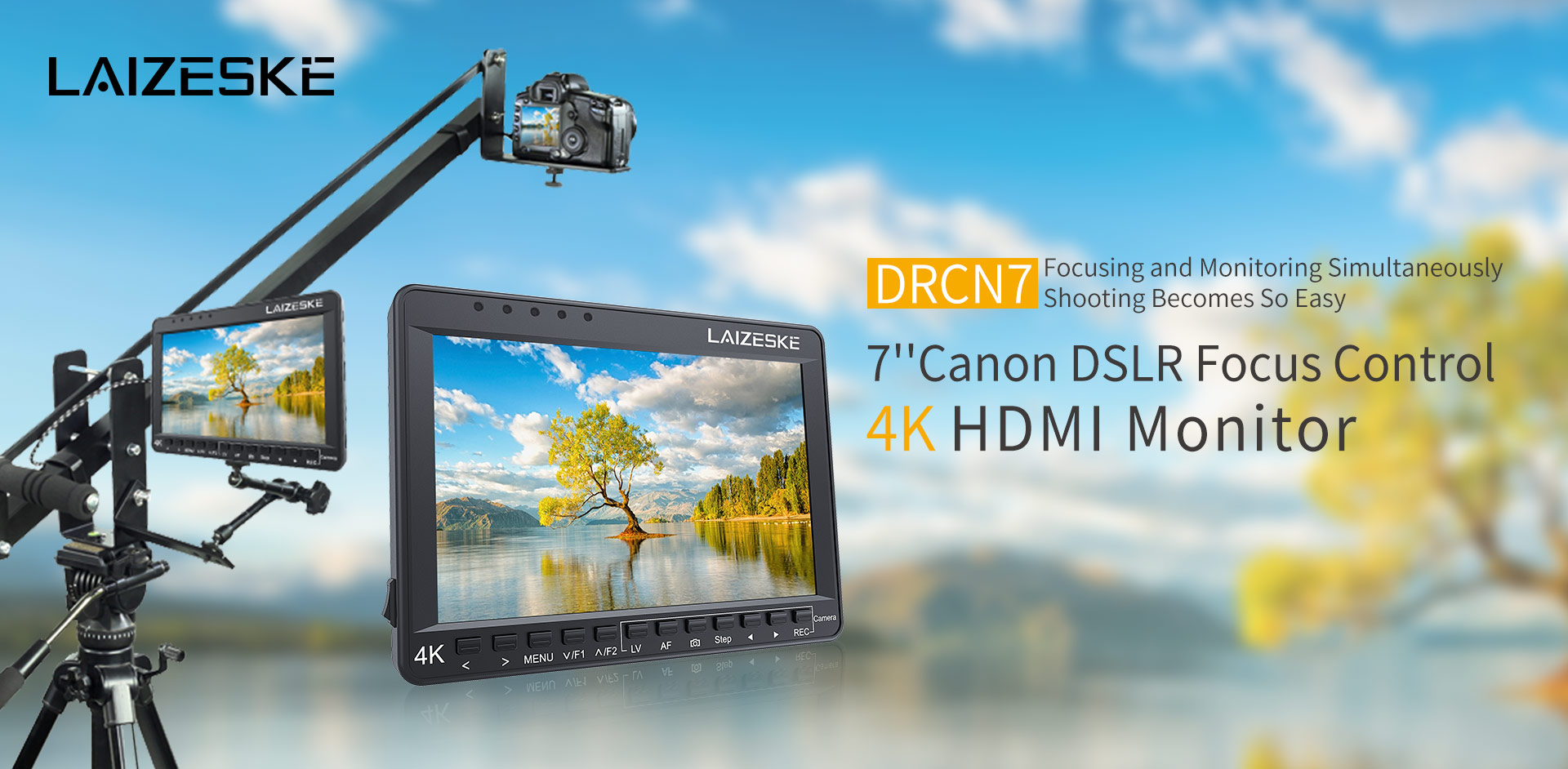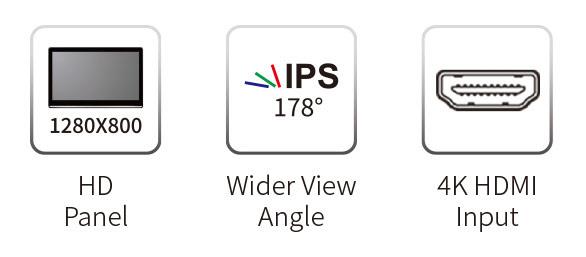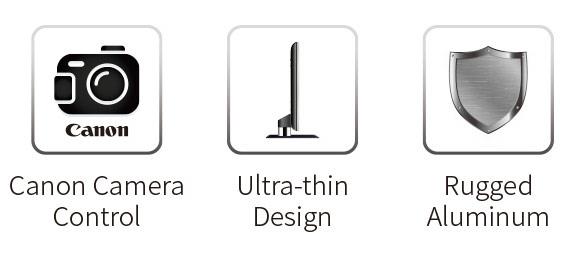 Professional Auxiliary Shooting Functions
LAIZESKE DRCN7 monitor is ideal for high end broadcast monitoring because they feature high quality focus assist function, also includes check field, image freeze, image flip, center marker, safe frame, color temperature adjust, assist users to accurately monitor when shooting, making and playing movies/ videos.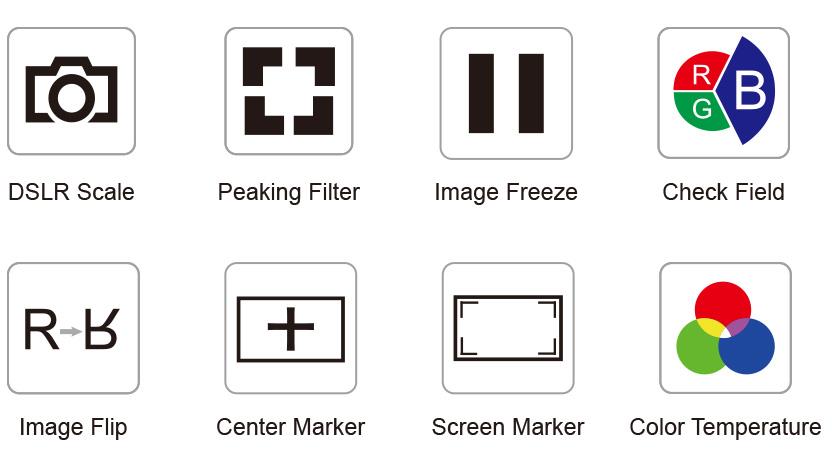 7-inch IPS HD Panel
With the LAIZESKE DRCN7's 7-inch 1280 X 800 IPS HD panel what you see is truly what you get! The IPS HD Panel delivers near perfect viewing angles outputting crisp, clear shots on the field, which means less time in the editing room.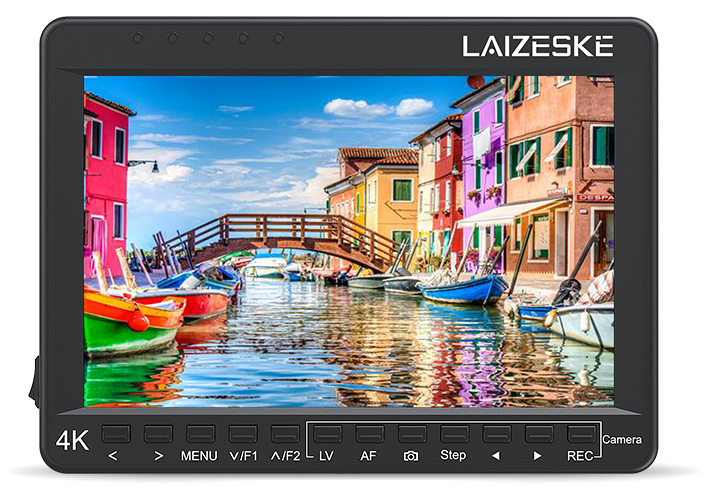 IPS 178° Perfect Image Viewing at Every Angle
LAIZESKE DRCN7 uses an IPS panel, which provides a wide 178°/178°viewing angle, you'll be able to see accurate, consistent and bright images from any point of view.

Ultra-thin Lightweight Design
Designed to be durable and light weight, the DRCN7 gives you freedom to shoot well anywhere.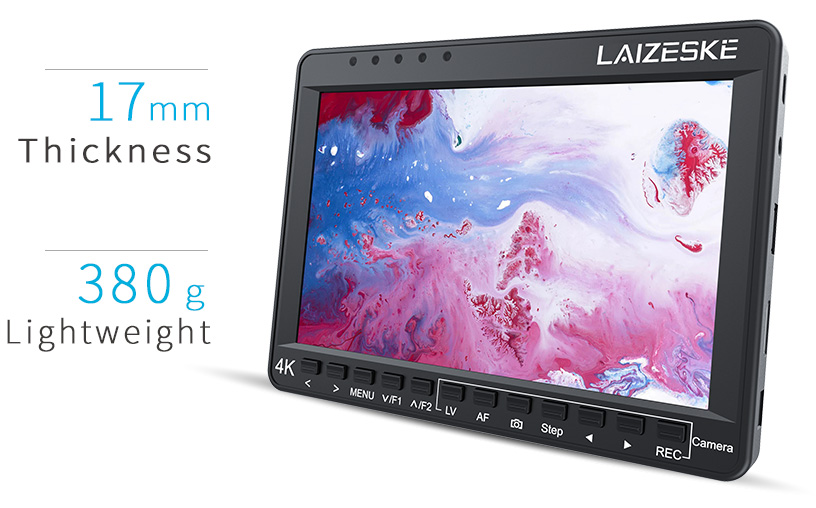 Focusing and Monitoring Simultaneously
Photographer,director can focus and monitor in the same time, shooting becomes so easy.

Remote Controlling Canon DSLRs
LAIZESKE DRCN7 is the perfect tool to suitable for the needs of the remote controlling Canon DSLRs. It can control crucial functions such as video recording, toggling live-view, taking pictures and manually adjust focus point.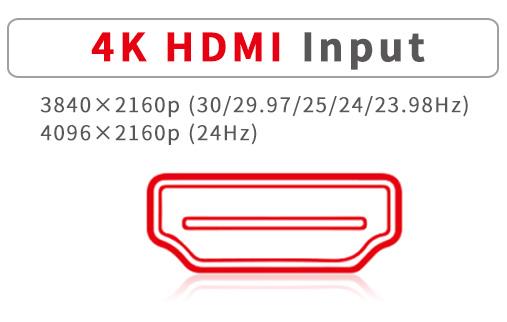 Professional Connections
The compact design of the LAIZESKE DRCN7 includes HDMI and Camera USB so you can connect the Canon camera to monitor and focus. The 12V universal power supply gives you continuous operation. You can also monitor audio using the 3.5mm stereo headphone jack or the built in speaker.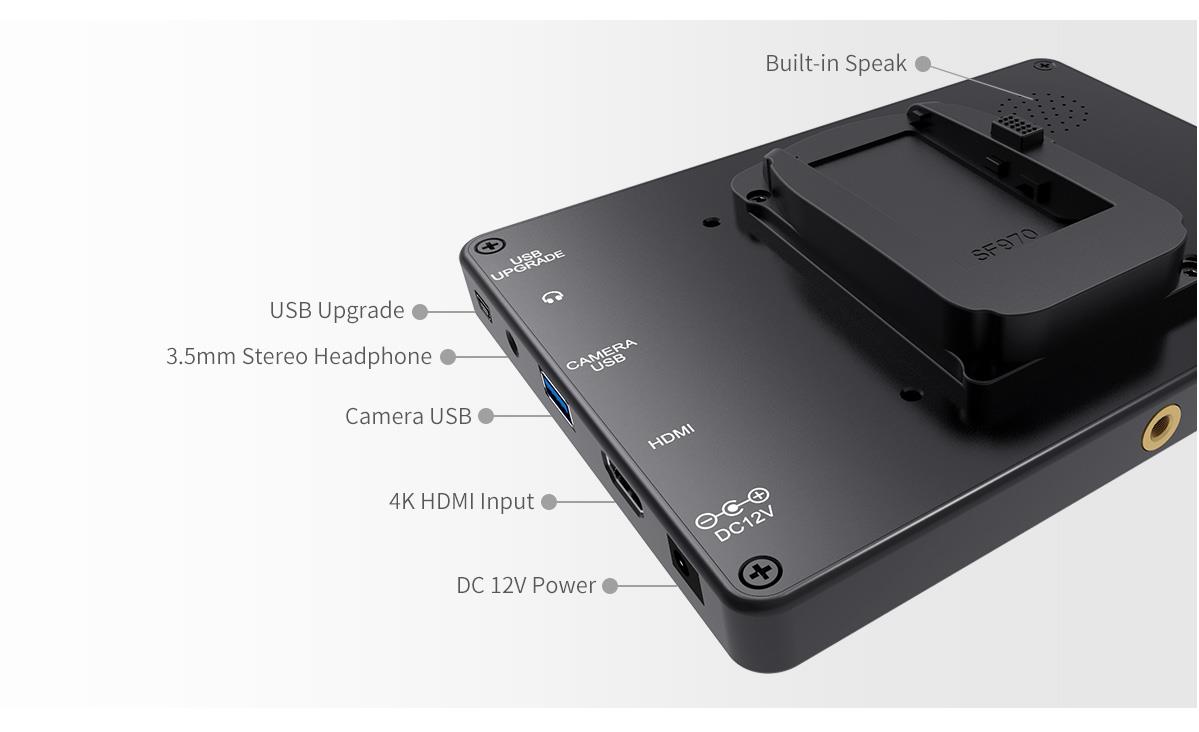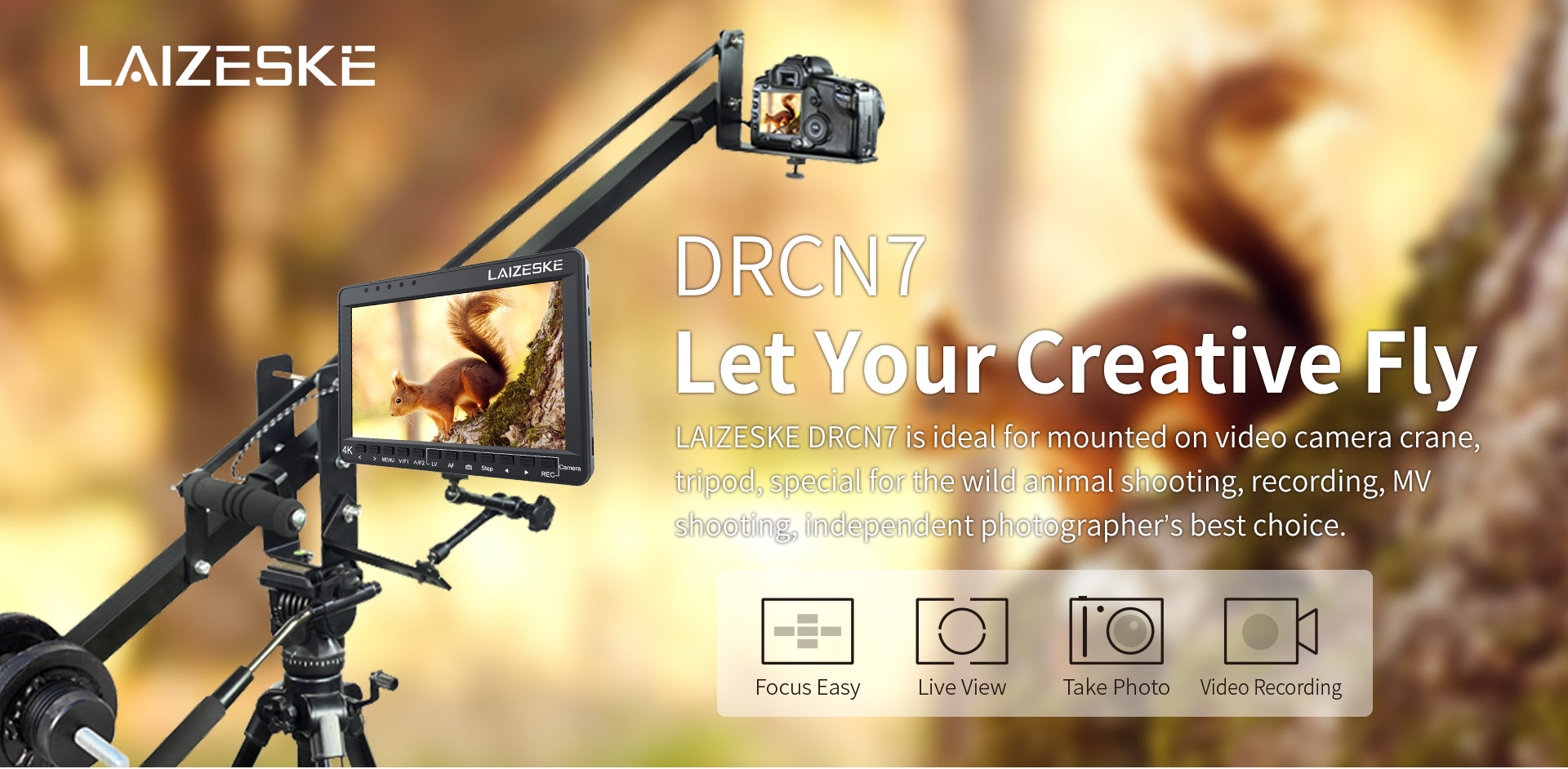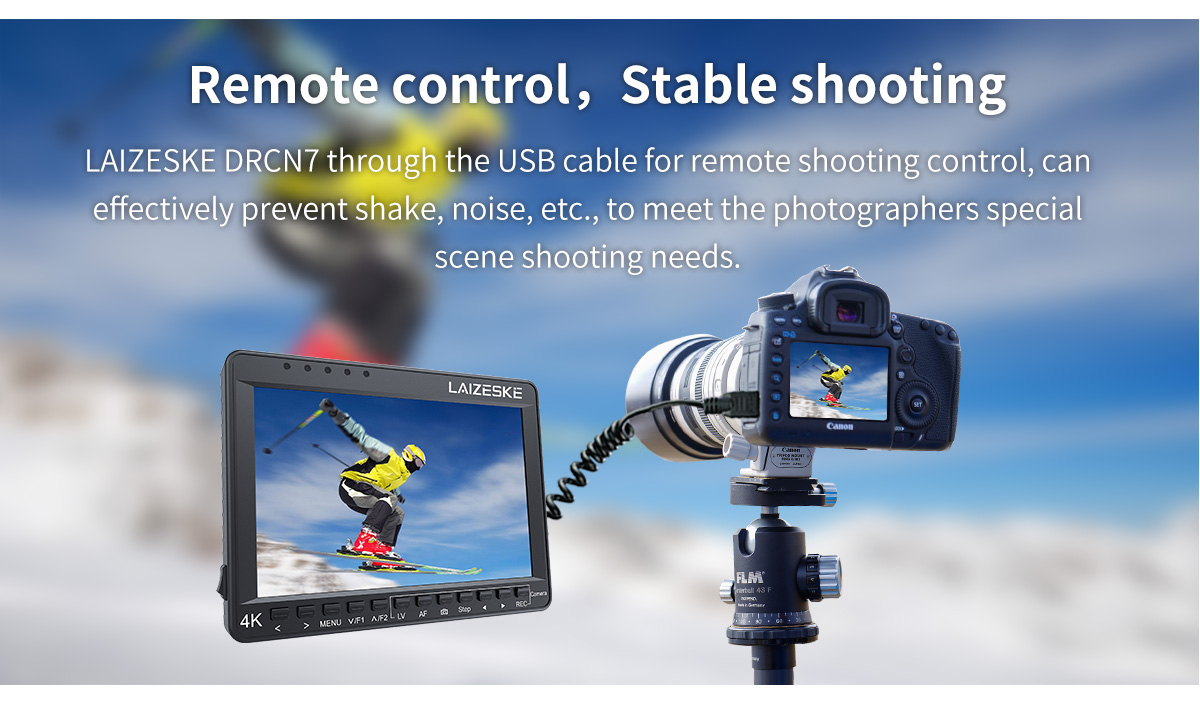 Visualize the Focus Speed
LAIZESKE DRCN7 allows for three different step sizes while sending a focus command to the camera. Pressing Step cycles through the three different sizes, and the LED lights green. The large the focus step, the quicker the focus moves.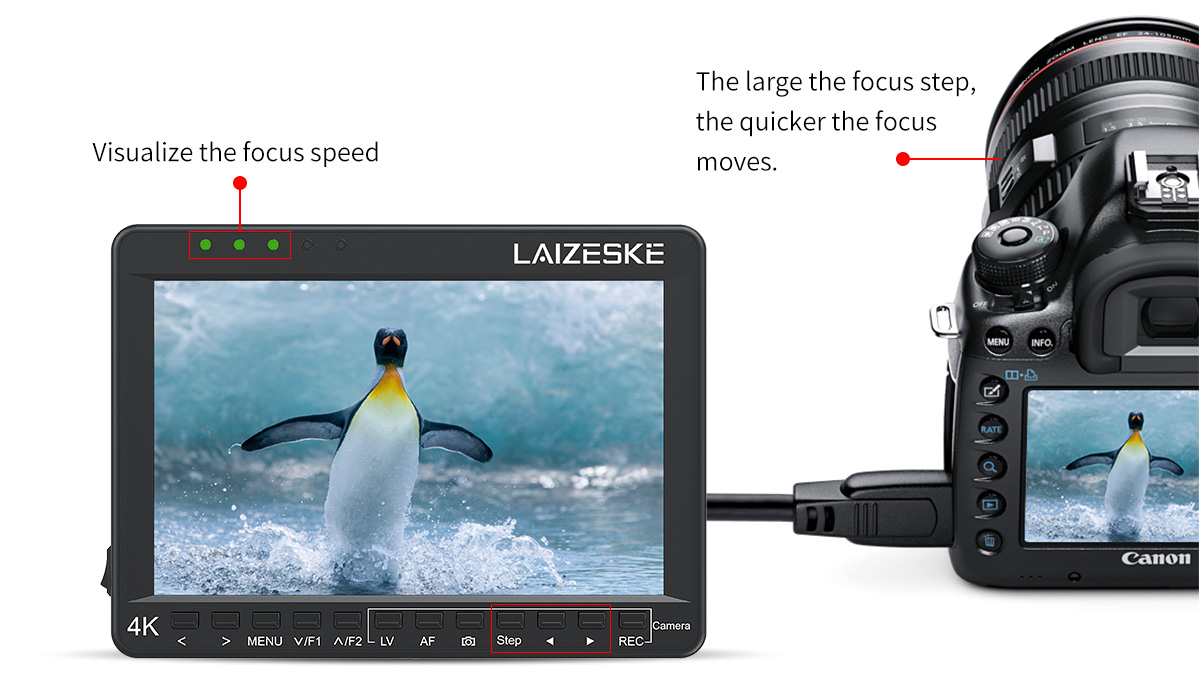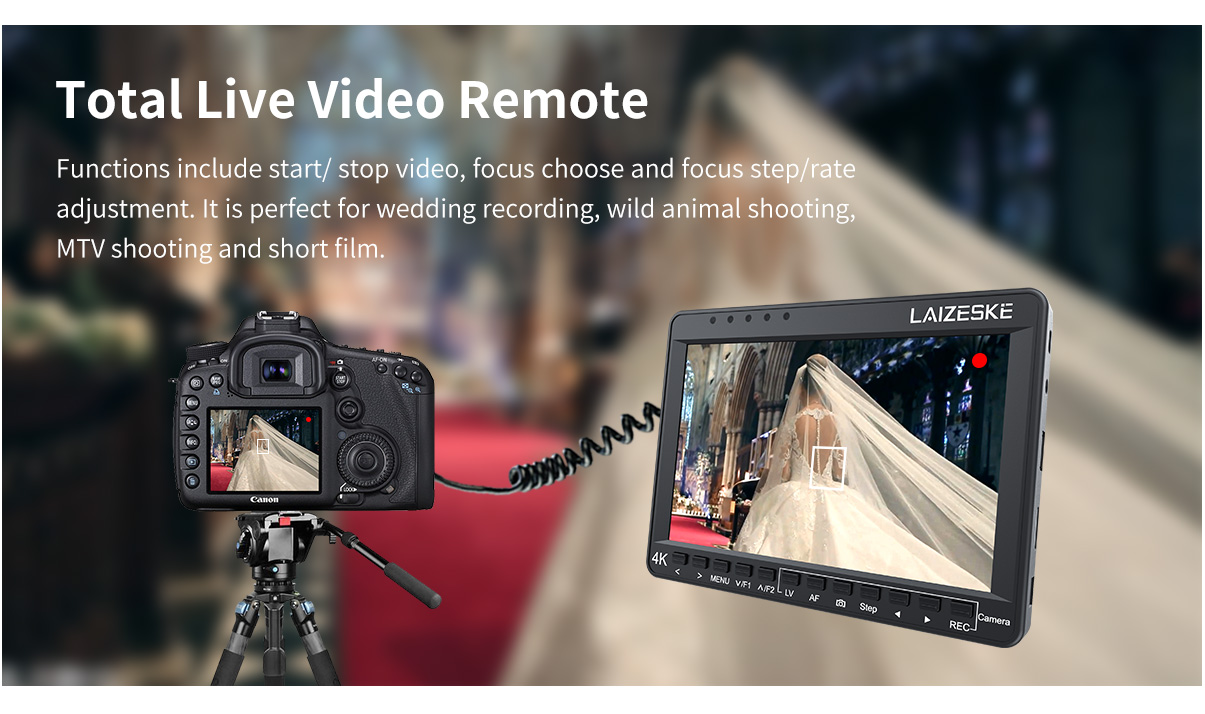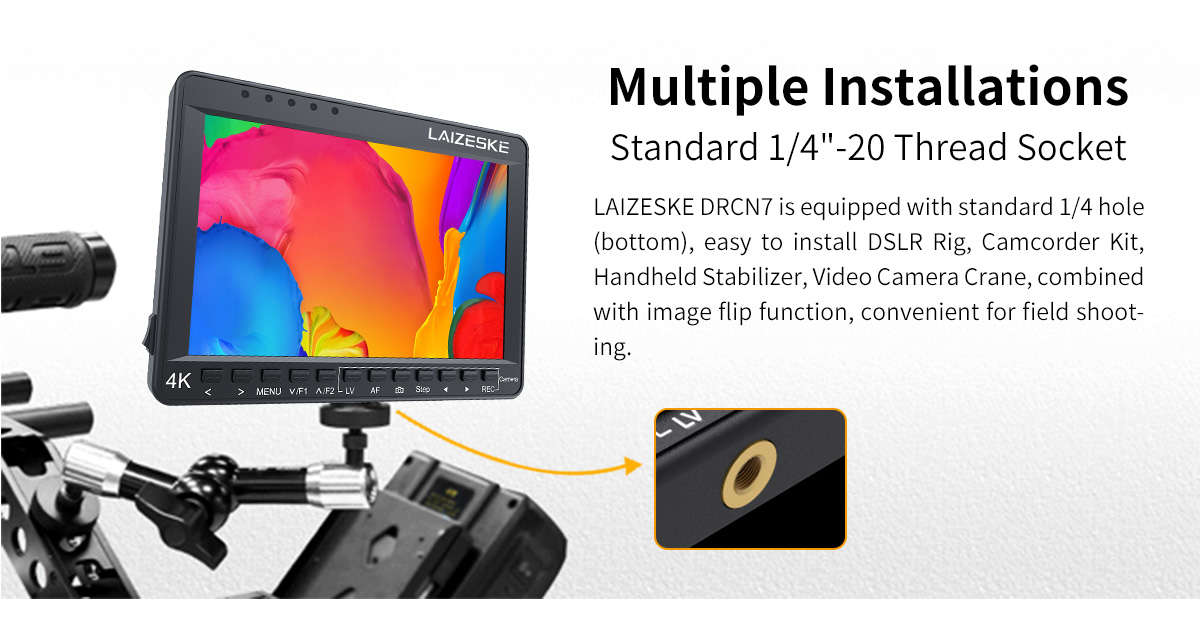 Standard Hot Shoe Mount 360° Rotation
Hot Shoe Mount can be connected with the DSLR, Slide and other shooting components to facilitate the shooting and monitoring of different scenes, can also be connect to tripod.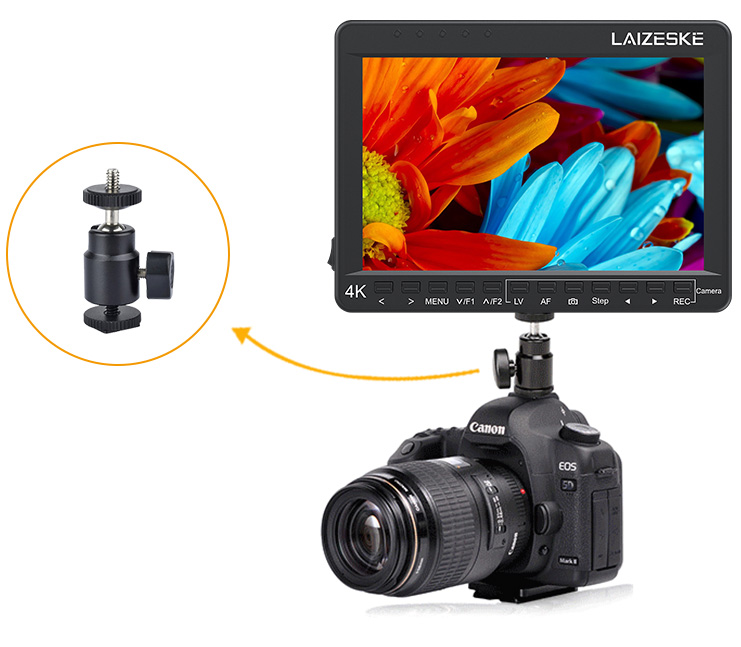 Flexible Battery System
The DRCN7 has a flexible battery system that supports F970 battery plate (standard), D28S/D54, LP-E6 and U60 battery plate (optional), and also can powered by power adapter (optional).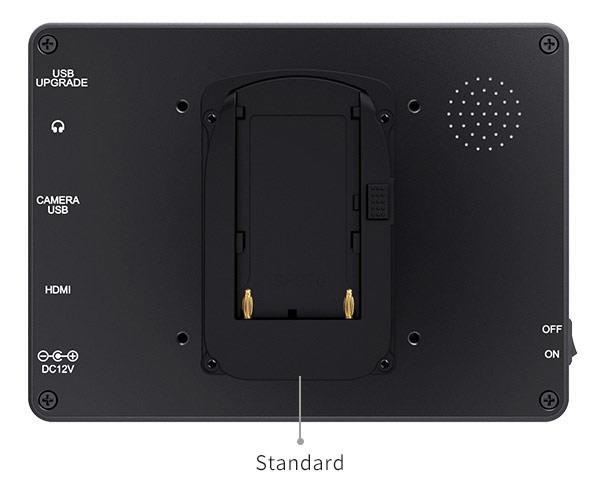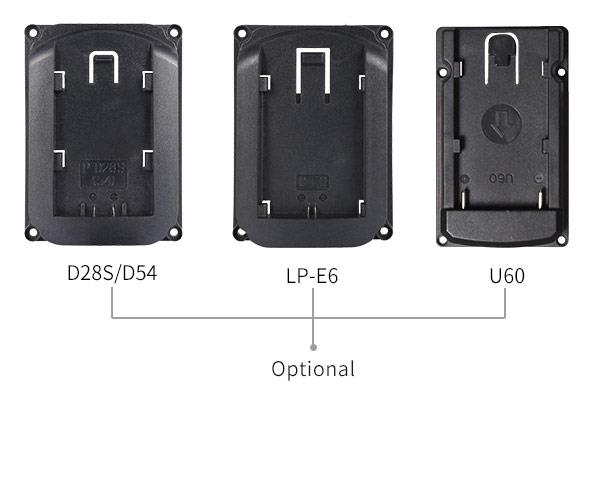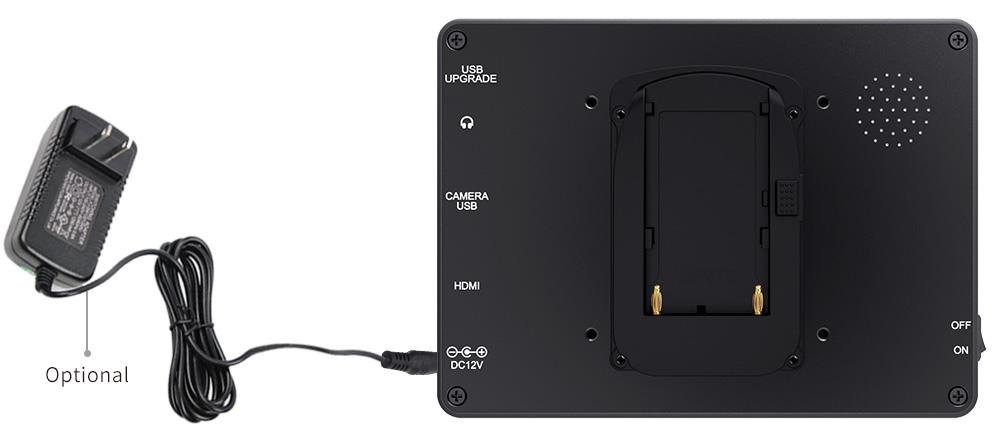 1. Wide view angle, HD
, bright, colorful display
2. Remote Controlling Canon DSLRs
3. Support 4K HDMI input
4. Special Features:
* Peaking Focus Assist (Red highlight over parts of the monochrome image in focus)
* Check Field (Red, Green, Blue, Mono)
* Camera Mode
* Pixel to Pixel
* Center Marker
* Safe Marker (80%, 85%, 90%, 93%, 96%, 2.35:1)
* Image Flip (Horizontal, Vertical, Hor&Ver)
* Image Freeze
* Zoom All
* U/D & L/R Zoom
* Custom Color Temperature
5. Monitoring via 3.5mm stereo headphone jack
Peaking Focus Assist
The Peaking Filter is used to aid the camera operator in obtaining the sharpest possible picture. When activated, the internal processor will display a colored highlight on the screen where sharp edges appear. It's shows Red highlight over parts of the monochrome image in focus.

Check Field
Check Field is an assistant function to adjust camera color settings. Under the check field mode, you can use red, green, blue or mono pixels to generate the image, because hue and saturation can be adjusted more quickly and accurately in this environment.

Camera Mode Function
It will be full screen under camera mode.

Pixel to Pixel
Enable the filmmaker to check the image from the 1:1 signal source without scaling. This feature is essential for capturing optimum detail.

Center Marker & Safe Marker




Safe Mark for View Finding and Composition (80%, 85%, 90%, 93%, 96%,2.35:1)
Image Flip
The Horizontal, Vertical and Hor&Ver of the image around flip.

| | |
| --- | --- |
| Model | DRCN7 |
| Screen Size | 7" IPS |
| Color Depth | 16.7M (8 bit) |
| Resolution | 1280 × 800 pixels |
| Pixel Pitch | 0.11775(H) x 0.11775(V) mm |
| Aspect Ratio | 16:10 |
| Brightness | 400cd/m² |
| Contrast Ratio | 800:1 |
| Backlight | LED |
| Viewing Angle | 89°/89°(L/R) 89°/89°(U/D) |
| | |
| --- | --- |
| 1 X HDMI | HDMI |
| 1 X USB | Camera USB |
480i/576i/480p/576p
720p (60/59.94/50/30/29/25/24/23.98)
1080i (60/59.94/50)
1080p(60/59.94/50/30/29.97/25/24/24sF/23.98/23.98sF)
4K UHD 3840×2160p (30/29.97/25/24/23.98Hz), 4096×2160p (24Hz)
Support EOS Series Digital Cameras
EOS-1D Mark III
EOS 40D
EOS-1Ds Mark III
EOS DIGITAL REBEL Xsi/450D/ Kiss X2
EOS DIGITAL REBEL XS/ 1000D/ KISS F
EOS 50D
EOS 5D Mark II
EOS Kiss X3/EOS REBEL T1i /EOS 500D
EOS 7D
EOS-1D Mark IV
EOS Kiss X4/EOS REBEL T2i /EOS 550D
EOS 60D
EOS Kiss X5/EOS REBEL T3i /EOS 600D
EOS Kiss X50/EOS REBEL T3 /EOS 1100D
EOS 5D Mark III
EOS 1D X
EOS Kiss X6i/EOS 650D/EOS REBEL T4i
| | |
| --- | --- |
| Input Voltage | DC7~24V |
| Power Consumption | ≤6W |
| Working Temperature | -20°C~50°C |
| Storage Temperature | -30°C~60°C |
| Unit Size (mm) | 175.8Lx130.2Hx17D (mm) |
| Unit Weight | 380g/ 410g (with F970 Battery Plate) |
*Peaking Focus Assist (Red highlight over parts of the monochrome image in focus)
*Check Field (Red, Green, Blue, Mono)
*Camera 5D II Mode
*Center Marker
*Screen Marker (80%, 85%, 90%, 93%, 96%, 2.35:1)
*Image Flip (H, V, H/V)
*Image Freeze
*Custom Color Temperature
*Aspect Ratio
*Zoom All
*U/D Zoom
*L/R Zoom
*Pixel to Pixel (Nonsupport in 4K input)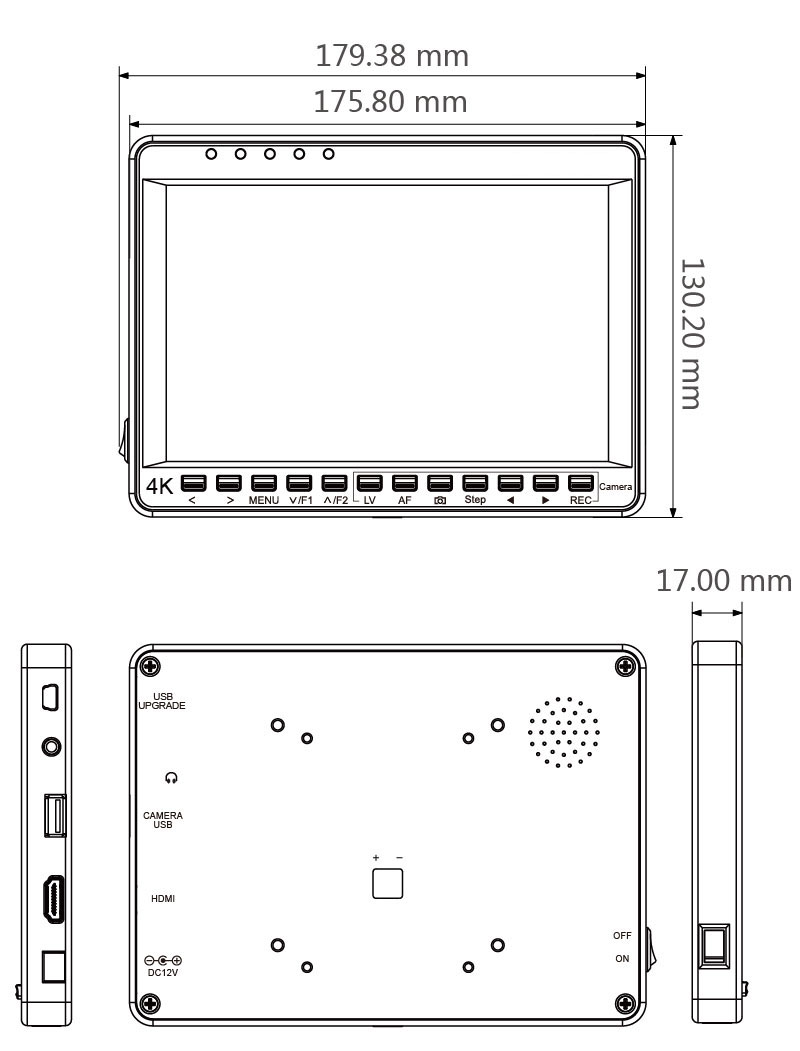 Standard Accessories:
1×
Mini HDMI Cable
1×
Hot Shoe Mount
1×
F970 Battey Plate
1×
USB Cable
1× Operation Manual