13.3" Aluminum Design IPS 1920×1080 Pro Broadcast LCD Monitor with 3G-SDI HDMI AV YPbPr DR133S
Model:DR133S/ DR133H
Introduction
Screen Size:  13.3" IPS
Resolution:   1920x1080 pixels
Aspect ratio: 16:9
Brightness:   400cd/m²
Input
3G-SDI, HDMI, YPbPr, DVI-I, Video, Audio(L/R)
Output
3G-SDI, HDMI, YPbPr, Video, Stereo Headphone, Speaker(built-in)
DM

Download

OVERVIEW

FEATURES

SPECIFICATIONS

VIDEO

APPLICATION

ACCESSORIES

LAIZESKE Professional Broadcast LCD Monitor has been widely used in TV news production, broadcasting house, TV broadcasting truck and other fields. Since this series is working with other adjacent professional equipments, therefore, high stability, high reliability and electromagnetic compatibility are very important to make sure the whole system work smoothly.
Stability and Reliability


The full aluminum case not only makes the product more solid and durable, but also solves the problem of heat dissipation. Full aluminum case improves the anti-interference capability!

1920X1080 IPS Full HD Panel




With the DR133S's 13.3-inch 1920×1080 IPS Full HD panel what you see is truly viewing angles outputting crisp, clear shots on the field, which means less time in the editing room. The DR133S's IPS Full HD Panel is the tool of choice for high quality color reproduction.

Innovation OSD Operation
DR133S not only set up four "F key" for peaking focus asist, check field, camera mode function, pixel to pixel, Center Marker, Safe Marker, Image Flip and so on, reserves the knob for professional users. Double functions and knob type coding switch are LAIZESKE's exclusive technology feature, which will bring you more convenient and rapid operate feeling.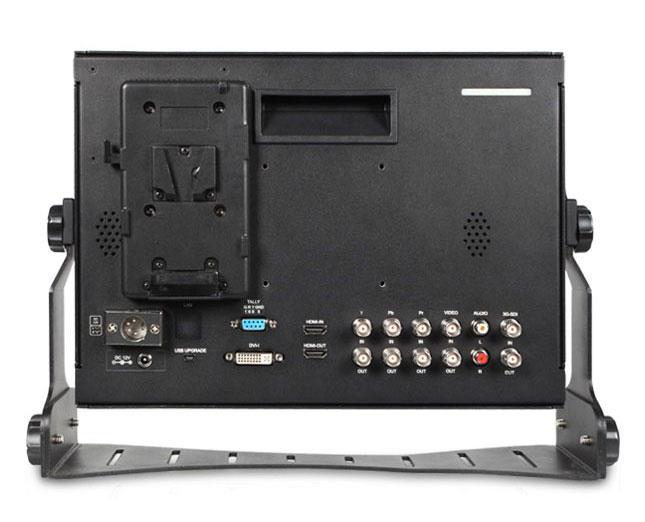 Multiple Inputs and Outputs




Input:


3G-SDI X 1
HDMI X 1
YPbPr X 3
DVI X 1
Video X 1
Auido (L/R) X 2

Output:


3G-SDI X 1
HDMI X 1
YPbPr X 3
Video X 1

Audio:


Stereo Headphone
Internal Speaker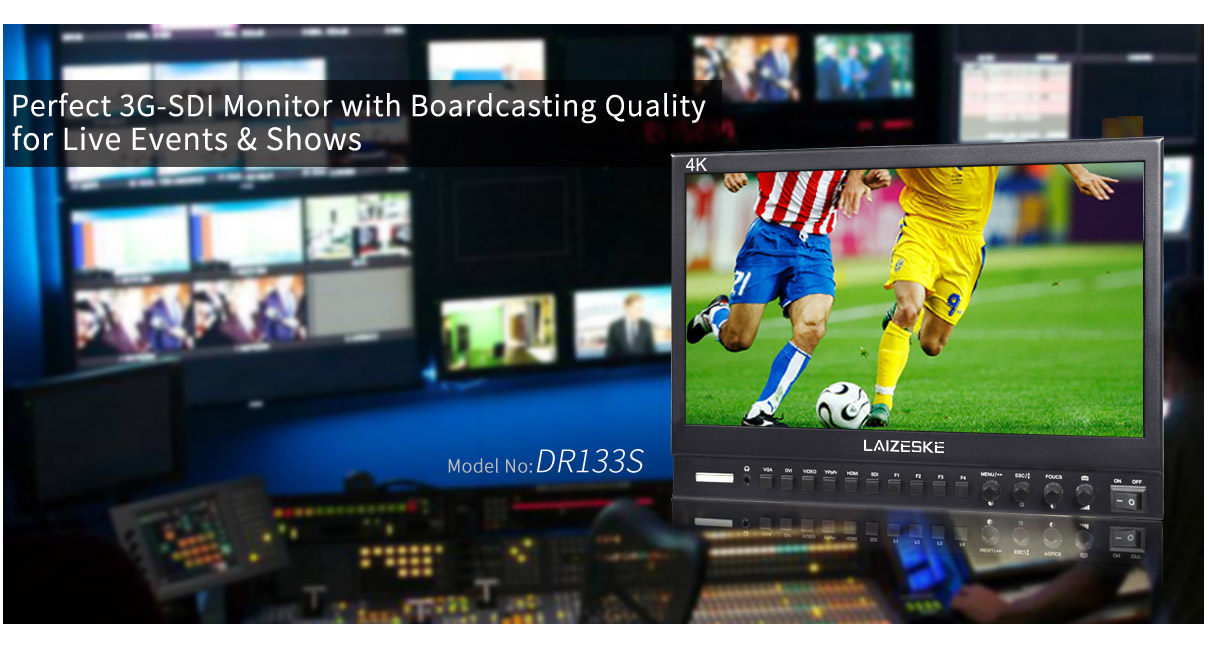 3-color Tally Light


Both front and rear side
There is front and rear TALLY lights for with 3 colors display (Red,Green,Yellow), and controlled via DB-9 ports on the rear panel.

Portable Sunshade




New extended screen hood, to acquire the ideal visual effect in almost all environments.
1. Wide view angle, Full HD 1920x1080, bright, colorful display
2. HDMI, 3G-SDI, Ypbpr, Video, Audio(L/R) inputs and HDMI, 3G-SDI, Ypbpr, Video loop-through outputs
3. Special Features:
* Peaking Focus Assist (Red highlight over parts of the monochrome image in focus)
* Check Field (Red, Green, Blue, Mono)
* Camera Mode
* Pixel to Pixel
* Center Marker
* Safe Marker (80%, 85%, 90%, 93%, 96%, 2.35:1)
* Image Flip (Horizontal, Vertical, Hor&Ver)
* Image Freeze
* Zoom All
* U/D & L/R Zoom
4. Monitoring via front panel 3.5mm stereo headphone jack and built-in speaker
5. Built-in LED tally indicators (Red, Green, Yellow)
6. Power using included 12-volt supply or use standard 4-pin XLR
Peaking Focus Assist
The Peaking Filter is used to aid the camera operator in obtaining the sharpest possible picture. When activated, the internal processor will display a colored highlight on the screen where sharp edges appear. It's shows Red highlight over parts of the monochrome image in focus.


Check Field
Check Field is an assistant function to adjust camera color settings. Under the check field mode, you can use red, green, blue or mono pixels to generate the image, because hue and saturation can be adjusted more quickly and accurately in this environment.


Camera Mode Function
It will be full screen under camera mode.


Pixel to Pixel
Enable the filmmaker to check the image from the 1:1 signal source without scaling. This feature is essential for capturing optimum detail.


Center Marker & Safe Marker
Safe Mark for View Finding and Composition (80%, 85%, 90%, 93%, 96%,2.35:1)
Image Flip
The Horizontal, Vertical and Hor&Ver of the image around flip.

| | |
| --- | --- |
| Model | DR133S (DR133H: W/O SDI) |
| Screen Size | 13.3" IPS |
| Color Depth | 16.7M |
| Resolution | 1920×1080 pixels |
| Pixel Pitch | 0.1533(H)×0.1533(V) mm |
| Aspect Ratio | 16:9 |
| Brightness | 400cd/m² |
| Contrast Ratio | 1000:1 |
| Backlight | LED |
| Viewing Angle | 85°/85°(L/R) 85°/85°(U/D) |
| | |
| --- | --- |
| 1 X BNC | 3G-SDI |
| 1 X HDMI | HDMI |
| 3 X BNC | YPbPr |
| 1 X DVI-I | DVI-I |
| 1 X BNC | Video |
| 2 X RCA | Audio(L/R) |
| | |
| --- | --- |
| 1 X BNC | 3G-SDI |
| 1 X HDMI | HDMI |
| 3 X BNC | YPbPr |
| 1 X BNC | Video |
| | |
| --- | --- |
| Audio Out | Stereo Headphone, Speaker |
480i/576i
720p(60/59.94/50/30/29/25/24/23.98)
1080i(60/59.94/50)
1080p(60/59.94/50/30/29.97/25/24/24sF/23.98/ 23.98sF)
480i/576i/480p/576p
1080i (60/59.94/50)
720p (60/59.94/50/30/29/25/24/23.98)
1080p (60/59.94/50/30/29.97/25/24/24sF/23.98/ 23.98sF)
4K UHD 3840×2160p (30/29.97/25/24/23.98Hz), 4096×2160p (24Hz)
| | |
| --- | --- |
| Input Voltage | DC9~24V |
| Power Consumption | ≤12W |
| Working Temperature | -10°C~50°C |
| Storage Temperature | -20°C~60°C |
| Unit Size | 315.5L×231H×26.4D mm (W/O Bracket) |
| Unit Weight | 1.64kg (W/O Bracket)/ 1.96kg (W/Bracket) |
* Peaking Focus Assist(Red highlight over parts of the monochrome image in focus)
* Center Marker
* Screen Marker (80%,85%,90%,93%,96%,2.35:1)
* Image Freeze
* Image Flip (H, V, H/V)
* Camera Mode
* Pixel-to-Pixel (Nonsupport in 4K input)
* Check Field (Red,Green,Blue,Mono)
* Zoom All (Nonsupport in 4K input)
* U/D & L/R Zoom (Nonsupport in 4K input)
* Aspect Ratio (Nonsupport in 4K input)
* Custom Color Temperature
* Built-in LED tally indicators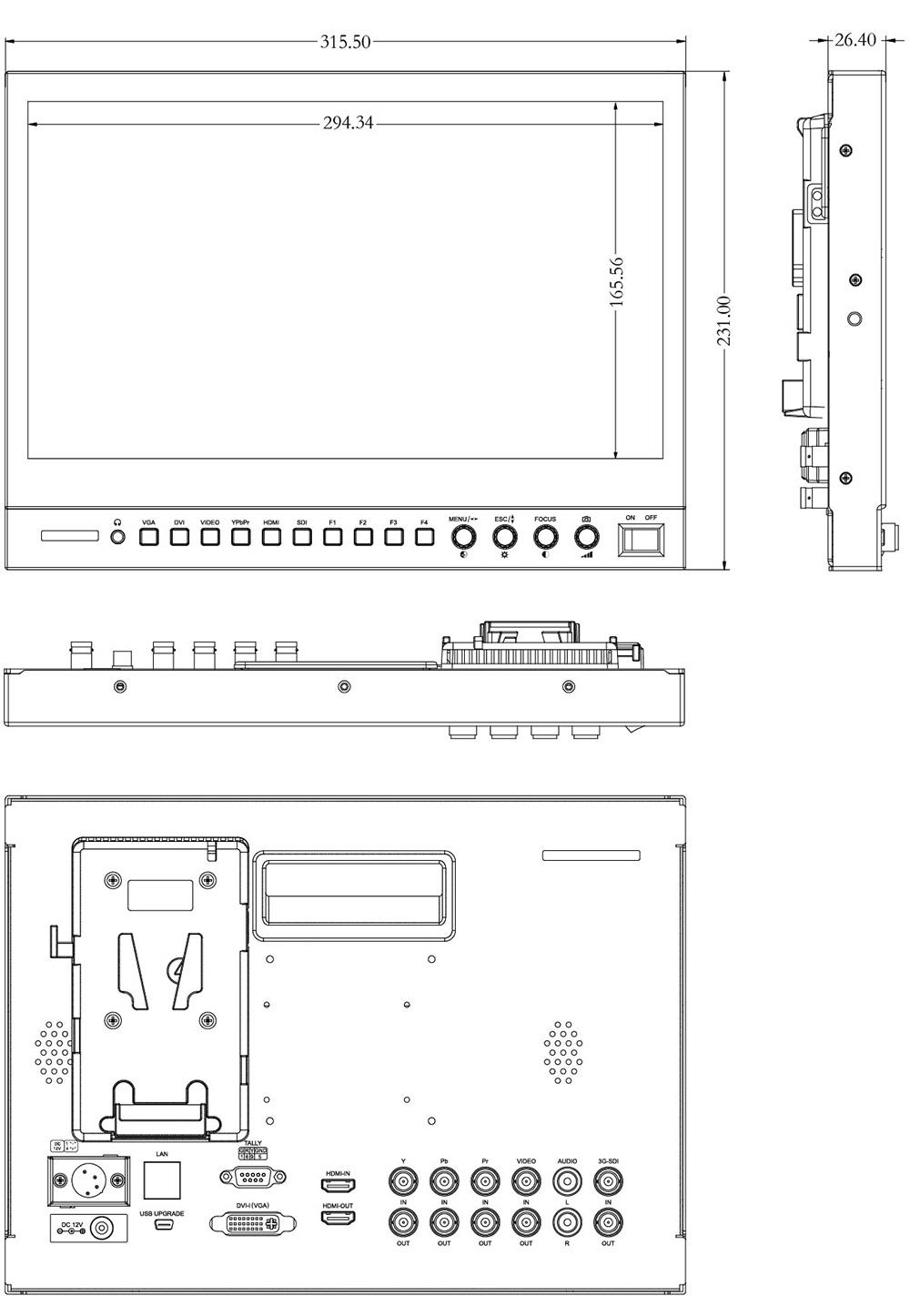 Standard Accessories:
1×
Mini HDMI Cable
1× V Battery Plate
1× 1.5A Power Adapter
1× Tally Kit
1× Sunshade
1× U bracket
1× Operation Manual